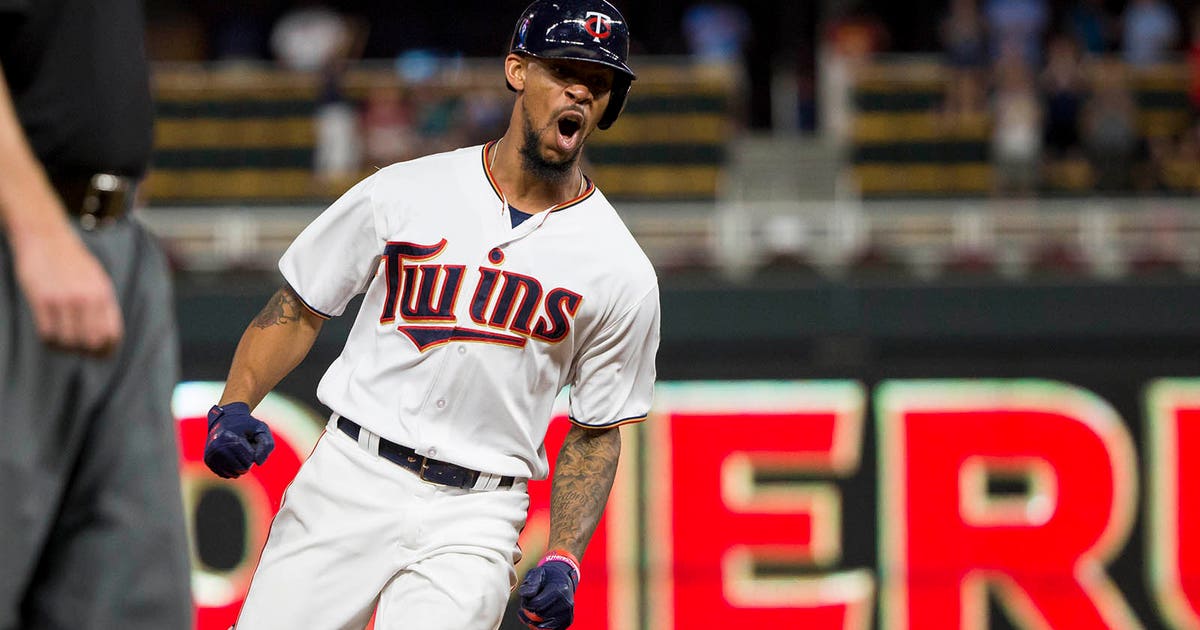 Drafted second overall in 2012 (behind Carlos Correa) by the Minnesota Twins, Byron Buxton's athleticism was undeniable; primarily his just-shy-of-Billy-Hamilton speed and his just-shy-of-Aaron-Judge arm. He profiled instantly as elite in centerfield with a lot of value on the basepaths and a bat that wasn't much at the time of the draft but flashed potential.
That was the risk the Twins took. Could a seriously athletic glove-first outfielder develop enough of a bat to be a star?
Buxton got his first taste of the Major Leagues in 2015 and struggled at the plate, producing pitiful results in about 140 plate appearances (yes, I know, small sample size). And while he's been better than the 57 OPS+ (remember: 100 is league average) he showed in 2015, he's never approached league average. In just under 1,110 plate appearances in the major leagues, Buxton produced a better-but-still-bad 80 OPS+ while striking out 340 times and walking only 70. That's a brutal ratio. His cumulative on-base percentage is .285. You have to be exceptionally good at defense and baserunning to make that playable.
And then there's the health issue; Buxton has missed a lot of time in his career, which stunted his development at times and also, obviously, hampered his production. The Twins have also kept him in the minors when he probably needed at-bats against Major League pitching. Buxton doesn't have anything left to learn in the minors.
In his only MLB season with a lot of playing time (2017, where he played more than 1,000 innings in centerfield) Buxton was incredible in the field. He led the league in Defensive Runs Saved among centerfielders with 24 and excelled on the basepaths, stealing 29 bags in 30 attempts.  Despite posting a below-average OPS+, Buxton was a really good player in 2017 (5.2 bWAR), carried entirely by his glove and his work on the basepaths. It's really hard to be that good and contribute so little with the bat, but Buxton did it.
It wasn't hard to tempt yourself into imagining a world where Buxton did this consistently. He was a prized prospect. Maybe he had just arrived a year or two later than the Twins hoped. And hey, what if he drags that OPS+ up to league average?
And then 2018 happened.
Buxton played just 28 games in the bigs and finished below replacement level, plagued by a variety of injuries and a car crash of a battling line. It began with a recurrence of migraines on April 18 that led to Buxton going on the 10-day injured list. In his first minor league rehab game, he fouled a ball off his foot and fractured his toe. That sucks for anyone, but for a player so entirely dependent upon speed, this was a terrible development. There are probably worse injuries for a player like Buxton to have, but not many.
The Twins then rushed Buxton back to the big leagues on May 10 because he's their best player and because they went 7-12 without him. Problem is, he wasn't the same guy. Defensively he was still good — there's a long way to fall from awesome, but when being awesome in the field is your main value-driver — but offensively he was worse than ever, hitting a horrific .122 after May 10.
I'm not beating on Buxton here. He fundamentally was not healthy and shouldn't have been in the bigs. End of story … and then this happened:
The violence of that is really frightening. Wow. That's a lot of human coming to a stop really, really fast.
The culmination of all those injuries — primarily the toe, which robbed Buxton of his precious speed and also wrecked his swing, hence the abysmal batting average — sent the young outfielder back to the DL on May 30.
He never saw Minnesota again. Assuming he was healthy and close to being Byron Buxton again defensively, he hit well enough at Triple-A Rochester to warrant a return to the bigs (.272/.331/.456). There wasn't much indication otherwise, mind you. He played a lot at Double-A too.
But the call up never came. Once September rolled around and the rosters expanded, the Twins decided to shut him down for the season, another act of brazen service time manipulation chicanery that prevented Buxton from playing enough in Minnesota to reach free agency in 2021. The team claimed it was purely about Buxton's health, but one wonders why they let him play 35 games in Triple-A if his health was a concern. But, don't ask me.
So what does 2019 hold? It's a pivotal year for Buxton. Can he stay healthy for another 140+ games? Can he hit enough to allow his glove and his steals to shine? Dan Szymborski's ZiPS projections peg Buxton as essentially just a league-average player now, not unreasonable given the totality of his career.
For the Twins, it's just as pivotal. Is Buxton the kind of player you build around? He certainly hasn't made that decision easy. You look at the batting numbers and flinch. You look at the injuries and cringe. But if healthy — oh, the mighty if — he could still be the best defensive outfielder alive and maybe the best defensive player alive, period. He's otherworldly. In that sense, as unfortunate as the system is, it made sense for the Twins to delay his free agency another year. For all we know, Buxton could return to his 2017 form and be really good again. Or … well, you know.
Unfortunately, the cold reality is we should accept that Buxton's ceiling is probably not much more than an average big leaguer. For whatever it's worth, his new swing mechanics have paid dividends so far in Spring Training. Maybe the bat will come around and 2019 is a good year for him.
My sincere hope is that he stays healthy. In an era so defined by on-base percentage and slugging (rightfully so), Buxton bounding across a vast outfield for a breathtaking catch is the kind of highlight baseball needs rippling across Twitter on a summer night. He's capable of the sorts of moments that make young fans look at their moms and dads with wonder in their eyes.
The sport needs that.