Brief thoughts on Kyler Murray's decision to pursue football fulltime: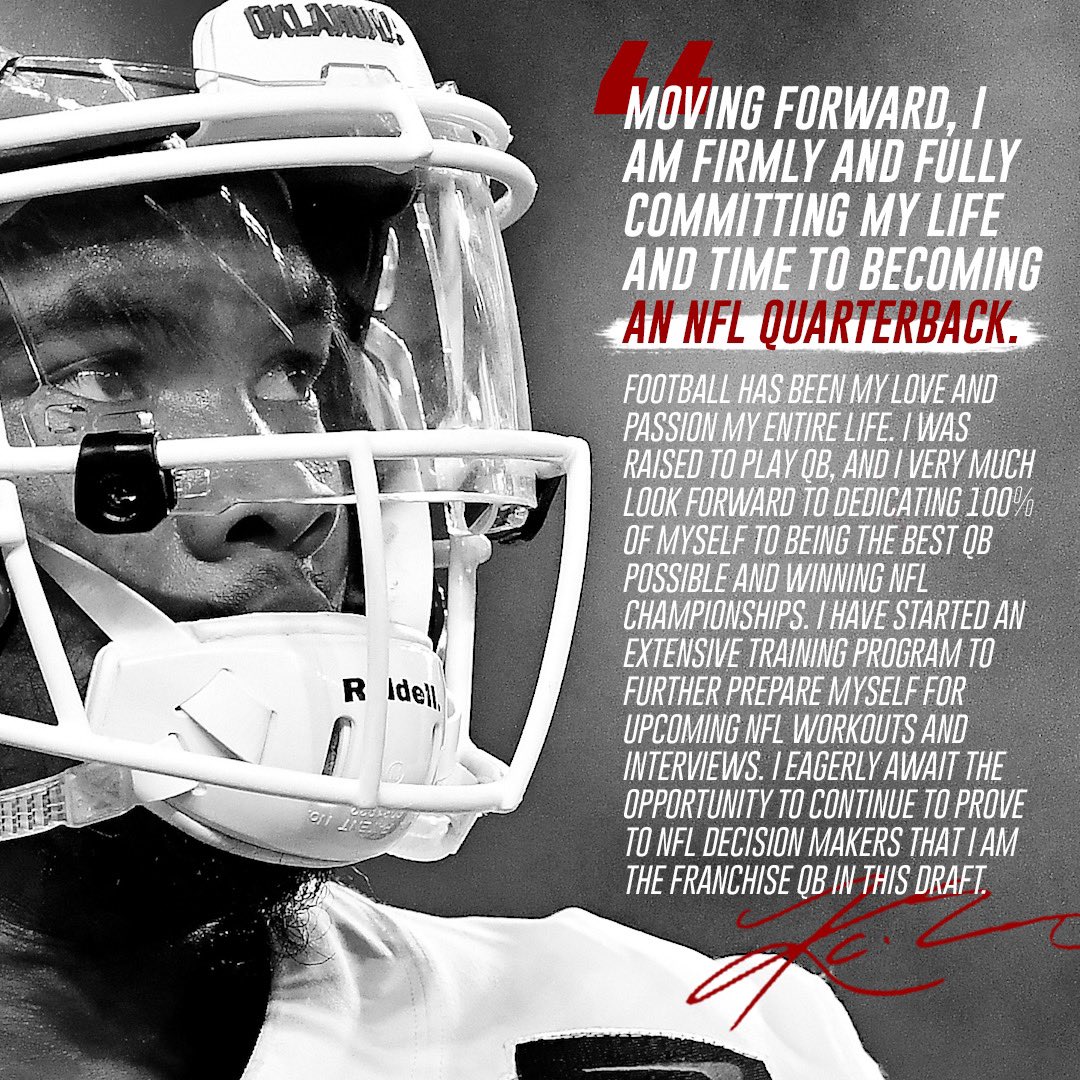 ESPN.com's Jeff Passan reported that Murray, the 2018 Heisman Trophy winner and the ninth pick in the 2018 MLB Draft, will return $1.29 million of the $1.5 million he was already paid by the Oakland Athletics. In addition, he is forfeiting the remaining $3 million he was owed with this choice.
It's a healthy chunk of change for anyone, but Murray — with good reason — is betting on his NFL future being lucrative.
I want to focus on two aspects of this story. First, Murray's future and second, why the heck did the A's draft him ninth overall?
Murray made the expedient choice, not necessarily the best one
Murray went with the NFL because his odds of superstardom are higher in football than baseball. We know what he is capable of on the gridiron. He's an incredibly athletic and dynamic quarterback, generally makes good decisions with the football and has a pretty high ceiling.
The NFL is moving in the direction of Kyler Murray. Yes, he's small. No, there aren't many great NFL quarterbacks who stood below 6 feet. But the sport is moving, even if only slowly, in the direction of the Baker Mayfields and Lamar Jacksons. Murray in the right situation could be quite a show. Whether he lands in the right situation is a different story. After all, like Bill Walsh once said, there are only eight smart teams in the league.
The far bigger concern is what choosing football means to Murray's long-term health. Playing football is unquestionably dangerous. It's a risk Murray was willing to take, but the consequences could be severe. Let's not gloss over this. Baseball is considerably safer.
The quickest path to significant riches and fame is the NFL, however. It takes years to break into Major League Baseball for anyone but the true superstars, and so in that sense, it's understandable for Murray to do this. Plus, he's almost definitely a better football player, especially given how little we know of him with a bat and glove.
What the heck were the Athletics thinking?
If I've missed it, please someone tell me, but I'm not finding a lot of people asking this question. Why would Oakland draft Murray with the ninth overall pick? It's not as if he was this consensus can't miss guy — MLB.com ranked him 36th before the draft — and his potential football aspirations were always known and documented.
Set aside the football issue and taking Murray ninth is already a bit of a stretch. Out of high school, he was a potential first overall pick in great part because of his athleticism and the potential to grow. Problem is, he didn't play college baseball at all until 2017 (he wasn't good) and 2018 (he was pretty good).
Murray lost those critical years of development. So what were the A's drafting? A hyper-athletic lottery ticket who might or might not turn into a baseball player. He flashed a lot of pop but struggled with pitch recognition, as you'd expect from a player who just hasn't played. Despite being faster than lightning, his defense in centerfield was only okay because he struggled with reads (again, lack of reps) and showed a weaker than expected arm.
The pitch recognition and outfield reads could have been fixed with professional coaching and game action, all the more so when dealing with an athlete as gifted as Murray. It's not like he was a terrible bet, but he's way behind the development curve and closing that gap would be challenging.
ESPN.com's Keith Law put it like this: Murray's ceiling is an occasional MLB All-Star and his floor is never cracking the majors.
Murray is hardly alone in that description, but then you remember he was about to go play major college football. There could be things I'm not privy to that led to Oakland selecting Murray, but I struggle to see why it was worth the gamble. Once Murray signed, the draft pick was forever gone, and that hurts the A's more than the money.
Maybe Oakland was convinced they could sign Murray and steer him toward baseball. Okay, fine. But as a prospect, it's hard for me to understand why he was worth the risk. In a sense, the selection in retrospect feels like a stunt.
***
Follow Adkins on Sports on Facebook to never miss a post!